The difference between a baby food maker and a baby blender
There is also a big difference between a baby food maker and a blender. Each type of machine has its own differences, and the food supplement machine is used to assist food, while the blender is used to stir things in different ways. So the difference between a baby food maker and a blender?
The difference between a baby food maker and a baby blender
Ordinary mixer
The food is broken into powder by the rotation of the blade, or homogenized into a slurry. Equipped with different cups, it can be used for beating pulp, powder, minced meat, juice, shaved ice, beauty mask and so on.
It is up to you whether to filter out or sieve out the residues in the food. However, because the number of revolutions is not high enough, the taste of the finished product is not fine enough and may be grainy.
When processing fruits and vegetables, the oxidation loss of vitamin C and antioxidant substances is more serious because air is brought into the process of whipping and destroying cells.
Baby food maker
You can steam, boil, stew, and stir food. The function is more comprehensive, no other electrical appliances are needed, baby food supplements are all done, and mothers can buy one if there is no time.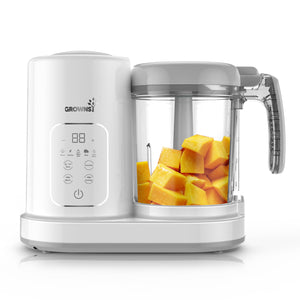 In the baby cook baby food maker, the tank on the left is filled with water, so it must be cleaned frequently, and the meat mud is not very delicate and the sound is a bit loud.
Usually mothers buy a stirring rod, which can be used by the family, or by the way, can also be used as supplementary food for children. It is convenient to make some supplementary food at home after get off work or on weekends and store it in the freezer. The elderly bring their babies at home during the day, and it is convenient to take them out to thaw.
A more convenient way to defrost is: buy an egg cooker with a steaming egg bowl, and directly put a small piece of different complementary food into it and steam it, and it will automatically cut off the power.
What brand of complementary food machine is good
In fact, different baby food makers have different advantages and disadvantages. For the convenience of novice mothers who want to add complementary foods to their babies as a reference. You can refer to the brand's complementary food machine;
1. Grownsy food supplement processing machine
There is a cooking time display, and there is an adjustment time function. There is a lock on the top of the machine, and the overall design is very quiet and neat.
2. AVENT baby food maker
Relatively speaking, it occupies a small area, and the two processes of cooking and grinding do not require manual transfer. The two ends of the processing container have steaming function on one side and grinding function on the other side. Therefore, as long as the food is steamed, the handle can be turned into grinding mode and it can be directly polished. It is not necessary to pour the food into the container after steaming the food.
3. Babycook food supplement processing machine
Not only is it suitable for the eat-first-cooking mode, it is also very convenient if the ground frozen food continues to be thawed and heated.
4. Babymoov multifunction machine
Sterilize baby products such as feeding bottles and pacifiers. Breast milk, milk powder, complementary food heating. The space is relatively large, eggs, sweet potatoes, etc. can be steamed directly. It also has the functions of thawing, food supplement and grinding.
---
0 comments